Madrid was a city that I didn't know much about going into our Spain trip. Upon arriving, however, I was instantly in love! This city has so much life and culture, making our four days here an amazing time. We also found this to be one of the most walkable cities we visited. Aside from the cab ride to the train station, we never needed transportation anywhere, which was a great perk and fun way to see more of the city. The feel of this city is hard to capture in words, but I've done my best to highlight some of our favorite places.
Length of trip: 3 nights / 4 days
Where we stayed: Hotel Urban
Top highlights:

Prado Museum
El Retiro Park
Sabatini Gardens
Sandeman Tour
Shopping
Nightlife
Top Attractions to Visit:
Prado Museum – time spent: 2.5 hours
The Prado museum is a Spanish national art museum known for having one of the world's best collections of European and Spanish art. It is possibly best known for housing Las Meninas by Velazquez. We watched a YouTube video by Nerdwriter analyzing the painting before seeing it in person. This was a great way to know some of what to look for in the painting and why it is so renowned. My main recommendation is to buy tickets in advance, and don't try and visit the museum during the free hours. The line to get in is insanely long at these times! Save that time to explore Madrid 🙂
El Retiro Park – time spent: 3 hours
El Retiro park is a HUGE park located behind the Prado museum that originally belonged to the Spanish monarchy. In the 19th century, it became a public park and now is a beautiful place to enjoy a picnic lunch, an evening stroll, or a paddle boat ride on the pond! In the middle of the park is the Crystal Palace, which is worth a walk to see.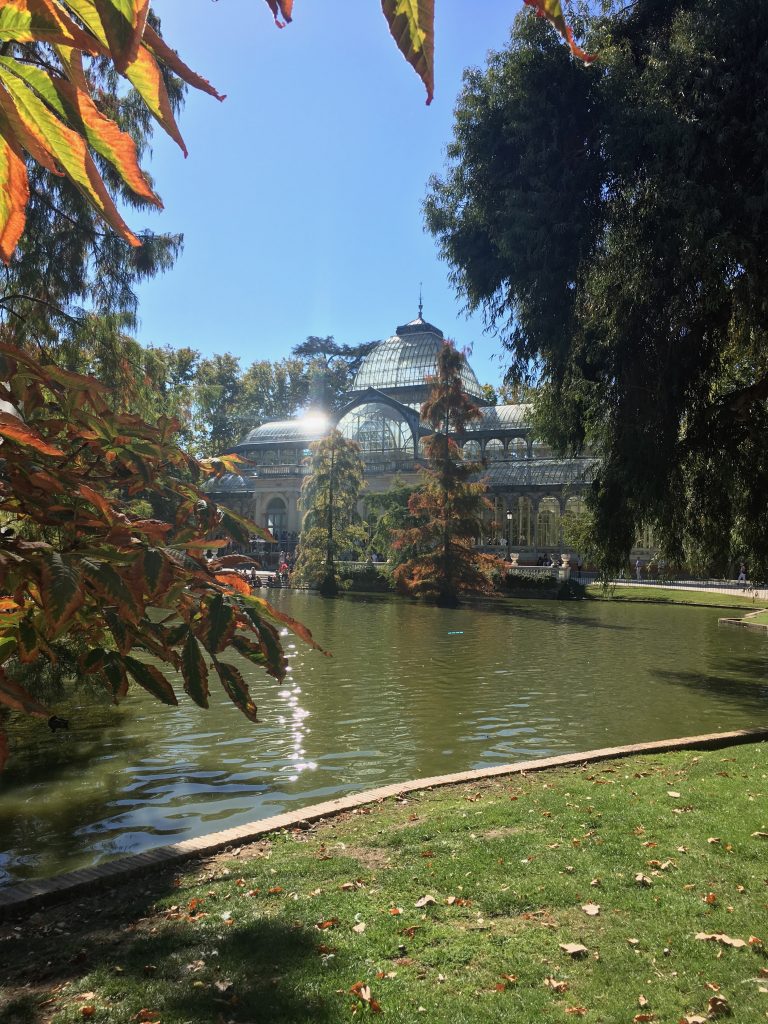 Sabatini Gardens – time spent: 1 hour
The Sabatini Gardens are the gardens of the Royal Palace. While we didn't wait in line or spend the money to tour the palace, we did spend a mid-afternoon wandering these beautiful gardens. This is a great place to relax, read a book, eat lunch, or just walk around and enjoy each other's company. There is a great photo opportunity here as well, where you can capture the back of the Royal Palace and part of the gardens in one photo.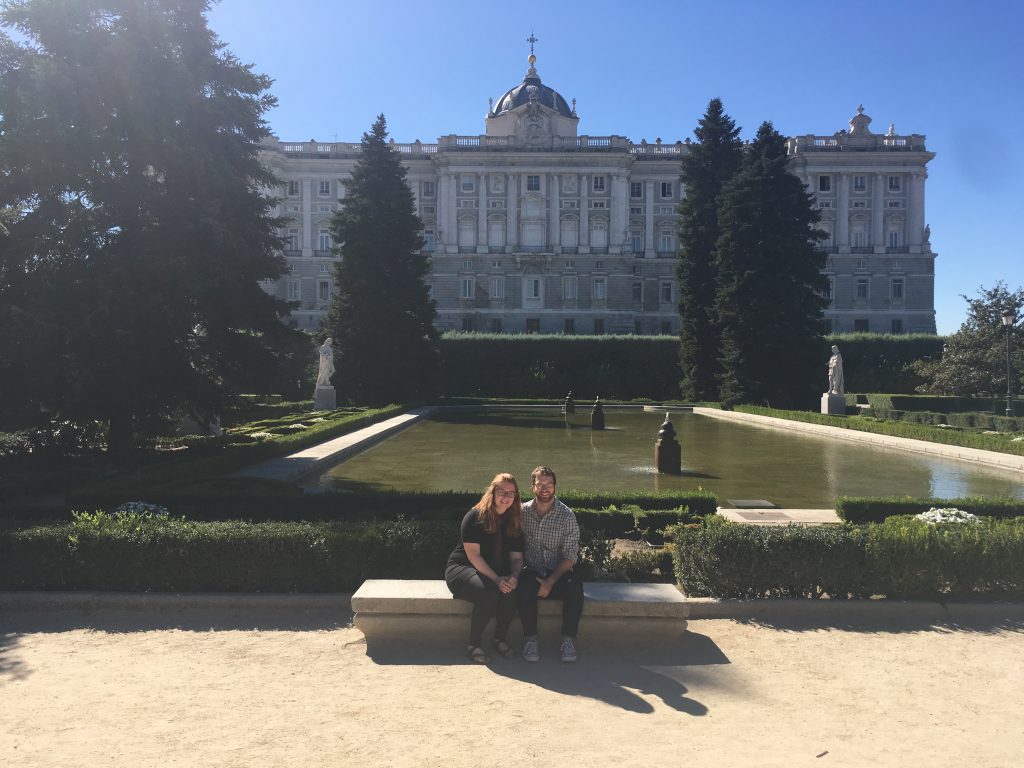 Sandemans Free Walking Tour of Madrid – time spent: 2.5 hours 
I am a big fan of Sandemans free walking tours, which are offered in several cities throughout Europe. The free walking tour of Madrid was no exception! To attend this tour, just sign up for a time online (can even be done the day of) and meet at the specified location. For us, that was the Plaza Mayor. When the tour is over, you pay your guide the amount you feel the tour was worth. Our guide, Ramon, was knowledgeable, enthusiastic, and a lot of fun! When I can swing it, I take these tours on my first full day in a city. They are a great introduction to the culture, history, and how to get around. Your time on the tour will also likely reveal places you'll want to return to later in your trip, so attending early on allows time to come back!
Shopping 
Madrid had the best shopping of any place we visited. If shopping is up your alley, check out the shops along the Grand Via as well as Calle Fuencarral.
Nightlife
Madrid had the most lively evening culture of all the places we visited. People were out until past midnight (even on weeknights!) enjoying drinks and tapas with friends. We enjoyed walking through the narrow streets and little plazas to find a table outside to enjoy tapas, a bottle of wine, or delicious desserts. I'd definitely recommend setting aside at least one evening to stay out late like a local and take in all in! We generally walked around the Sol, Letras, and Chueca neighborhoods.
Top food stops:
Last, but certainly not least, here were our most memorable places for food (in this case, all desserts)!